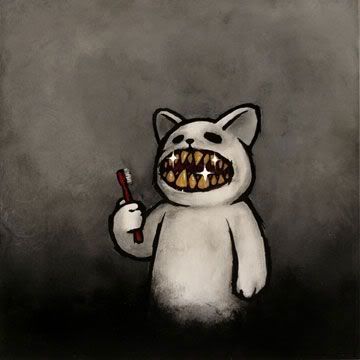 "OFF WITH HER ....NIPPLE!"
That's what I imagine him saying, lately.
Ouch, guys. Just ouch.
I'm not sure where that other breastfeeding post left off...but I'm pretty sure it was all
'hang in there, it gets better'
and all that jazz.
And at 7.5 months we're still hanging in there with the working/pumping/breastfeeding thing. And at 24.5 pounds (and 30 inches), this kid is still pretty much exclusively getting breast milk, aside a few nibbles here and there. (Especially since the whole illness kicked in...because since getting sick solids are pretty much out the window).
And pumping at work isn't such a big deal to me. I do a lot of computer, chart review, desk stuff...and generally find myself looking down 45 minutes later saying
'oh mah gawds, milks commin outta the top of da bottle and running down mah leg!'
And breastfeeding is, well, ouch.
This boy is a lively, distractable, toothy little fellow. And I mentioned the latch issues before. But the cute itsy bitsy razor sharp teeth. Now with top AND bottom to match.
The teeth. Oh the teeth.
Gone are the days of breastfeeding for relaxation. Breastfeeding to calm the crying. The fussing. Milk is for hunger. Mostly. Period.
Beware the nipple who goes too close to the
mini-Guillotine
.
Some people never have this problem. One of my sisters had early teethers, but was never.ever.bitten.One of my sisters had kids who never teethed until around a year old, at which point she was weaning anyway and it was a complete non-issue. I say that because I don't want to you think it is always this way.
I, however, am a
nipple-shaped teething ring
. And it hurts. Really really bad.
And while I used to only pump on the weekdays, and exclusively nurse on the weekends and evenings...the pump is slowly becoming a home staple item. And since the arrival of the top razor teeth, I've taken to only breastfeeding at night, when he's tired, and less distractable.
And I'm slightly ashamed to say that it's suiting me really well. I love giving him bottles. Because breastfeeding now is a
stomach-churning, rushed, nerve-wracking experience.
Latch ons feel like sitting at the top of a roller coaster. Finger primed at the very edge of his mouth throughout every feeding because I'm constantly on alert waiting to feel those sharp little knives clamping down on my milk-spraying nipple.
Teeth marks, people. He leaves teeth marks. And lately, bruises. And I wasn't real keen on the whole nipple biting thing before having children. And I'm not now. Still. Ever.
And yes, I've tried all those little tricks I've read about on every website that exists or book that's ever been written. But for now what's working is the bottle. And I love it. And I hate it. And I feel slightly guilty. Because I had fantasies of breastfeeding my babe into toddler-dom. Not forever, but I wasn't aiming for a one year cut-off or anything.
But this isn't a relaxing, beautiful experience lately. There's no gazing into each others eyes and me feeling all fulfilled because I'm giving my baby my perfect baby milks.
There's just the fear of being bitten, the pain of being bitten, the anticipation of being bitten...and then there's the part where I'm actually bitten.
Which is all
screamy
and
gaspy
and
teary
and such.
And even at night, when I am breastfeeding, the pain by morning is ridonkulous, which I know is influence by the return of those gawd durn baby-making hormones (i.e. I'm ovulating right now and apparently that accentuates all nippy-ish pain). By 6am this morning I was begging the hubs to go warm a bottle, and I escaped to go make my coffee and plug into my pump, and....
(I think I may have just discovered a way to gain 20 minutes of free time back.....)
Have you been here?
Did you survive it?
Did your boobies survive it?
Were you able to continue breastfeeding?
HALP!
<--from my nipples.