Or...Not the Y.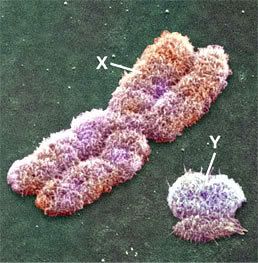 Yes, folks, the verdict is in, Hubby's Y chromosome is completely NORMAL. All the information is there. No deletions, microdeletions, delete-key deletions. All the DNA is in just the right spot. Everything is in order and should be coding away for sperm production and general 'male-ness'.
What does that mean for us? Pretty much nothing. This still doesn't answer any questions as to why his count is so low. It doesn't tell us why his morphology is in the toilet. We simply now know that the why is not the Y. That's it.
Of course it is good in some ways. At least we know we don't risk passing on any major Y mutations to any future manly babies (if we could be so lucky). But we could still pass on infertility. Who the hell knows. We just don't know, and will never know, the cause of the sparse seed.
It was also good to be able to finally tell my husband something was 'normal'. I think he was glad to hear it. He still wants to wait until 'Spring' to get things going on the IVF front...but at least he's willing to even go towards the IVF front.
We also strangely received another movie today entitled
The Business of Baby-Making
or something along those lines. I did not put these in the list. I also watched part of the movie,
Frozen Angels
today. Although he did not watch it with me, he did occassionally make a remark or smart comment from the other room...so I know he's listening.